5 Must See Sites in Cape Town South Africa
Here are Away to Africa's recommendations of the top five places to visit while in Cape Town, carefully selected and tested just for you.
Table Mountain – hiking trails & aerial cable cars
One of the most iconic of all Cape Town's attractions is without a doubt, Table Mountain. The spectacular mountain ridge, flanked by Devil's Peak and Lion's Head, is the richest yet smallest floral kingdom on earth. If you are seeking to view flowers in full bloom and indulge in panoramic treks on Table Mountain, the best time to visit Cape Town is during Spring, between the end of August and beginning of October. This specific time is the blooming season, and you will have the chance to enjoy the endless views of colorful fields. Table Mountain and the 12 Apostles are authentic natural amusement parks.
For those interested in climbing or hiking Table Mountain, we highly recommend traveling with at least one person or a group and bringing drinking water. The first hiking route, Platteklip Gorge, is the most popular trail. For those wondering how long it takes to hike Platteklip Gorge, we would say prepare for at least an hour or two depending on fitness and breaks. Platteklip Gorge's route is an estimated 1.6 miles, and the path consists of stairs carved into the rocks making it relatively easy to follow.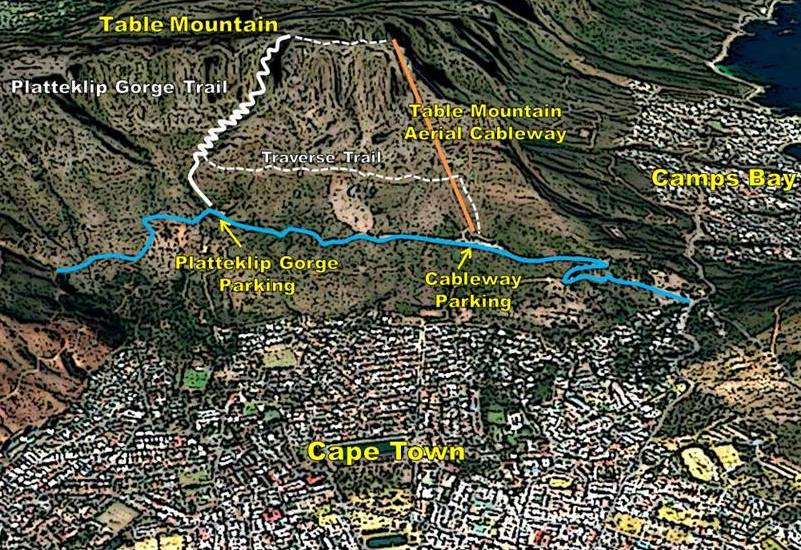 Another option is India Venster Trail. This trek is around three and a half hour long (one way) to the top of Table Mountain. It is considered a Grade B hike, which means you will have to scramble – use both legs and arms to climb the rock – at some point.
For the more experienced hiker, there is Skeleton Gorge. It is only 2.9 miles but rather steep and you will have to use your upper body strength to climb rocks at certain points. Prepare for a trek averaging three and a half to five hours. Although the path is a bit challenging, you will find an amazing place to break and snack at Breakfast Rock while enjoying the amazing view.
A must-do hike is the Full Moon Hike up to Lion's Head which is held every month during the spring-summer period. The panoramic view is truly breath-taking as you will have the chance to witness one of the most beautiful nocturnal cityscapes. During the hike to Lion's Head, we also suggest you stop at Wally's Cave, one of the most famous caves on this path. It is a beautiful spot to enjoy the views of Camp's Bay and the Ocean. In case you are wondering how to find Wally's Cave we will advise you that access to the route is oftentimes restricted, you can access the path prior to reaching 'the ladder' during your hike up Lion's Head.On the left side there is a sign that says: "Restricted Area" and there is where the adventure to Wally's Cave begins (We recommend that you do not hike to Wally's Cave if the route is restricted).
If you prefer to visit the Table Mountain with a bit more ease, you can simply take the Table Mountain Aerial Cableway*, which will bring you to the top without having to drop a sweat. The Lower Cable Station is on Tafelberg Road, off Kloof Nek Road, and about a 15-minute drive from the city center.
*From June 2020 the Table Mountain National Park reopened to the public. Due to the COVID-19 pandemic, the Cableway has implemented several security measures such as the mandatory use of face masks and hand sanitizers. Nonetheless, we invite you to frequently check the latest updates concerning new possible government's guidelines.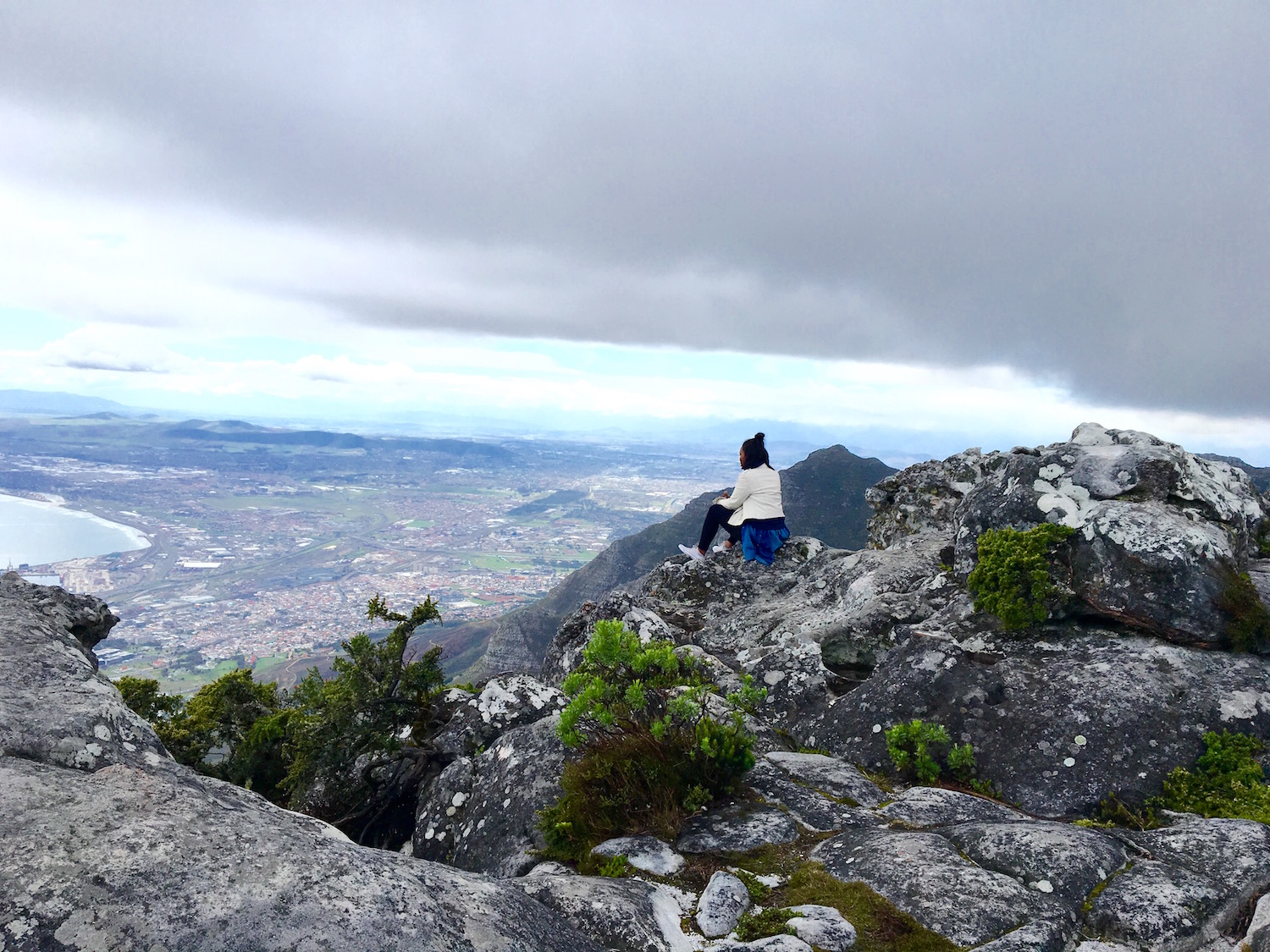 Stellenbosch and the finest of South African wine!
South Africa and wine are almost synonymous and lucky for any wine lovers Cape Town is home to the finest wine vineyards. You can either self-drive through the scenic route or hire a driver to schedule wine tastings and lunch to some of the best Stellenbosch vineyards. While on your wine tour(s) throughout Stellenbosch you will have the chance to visit the cellars, learn about the history of the winemaking tradition of the country and discover the process of producing wine. Pair your various wine selections with foods such as cheese, grapes, local dry meat (biltong), and even chocolate! A couple of wine farms that we recommend in Stellenbosch are Spier, a historic ethical vineyard active since 1692, and the Delaire Graff wine estate who also provides a SPA and biological body-care products. Our favorite black owned vineyards in Stellenbosch include the Seven Sisters, M'Hudi, and Thandi – the first agricultural BEE project in South Africa.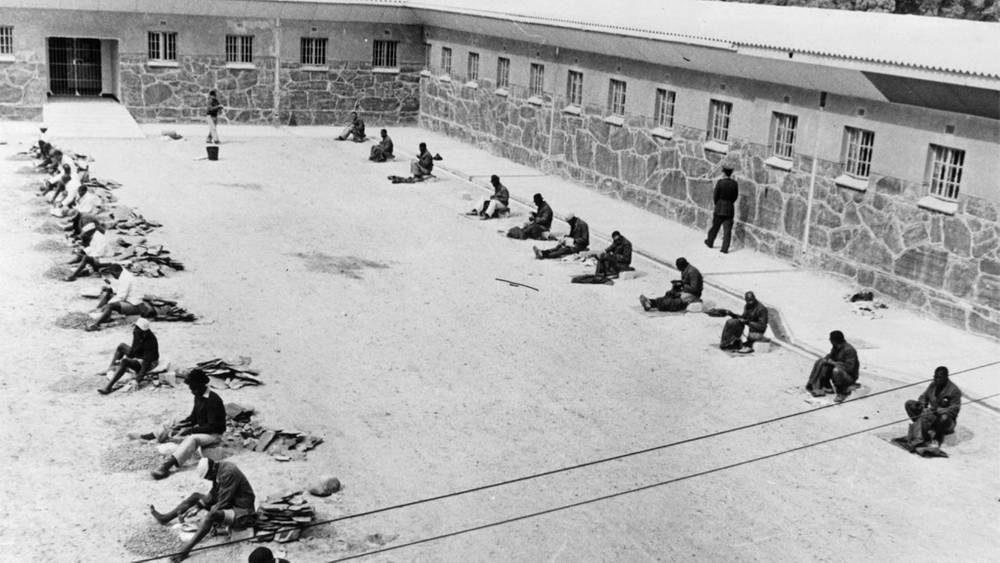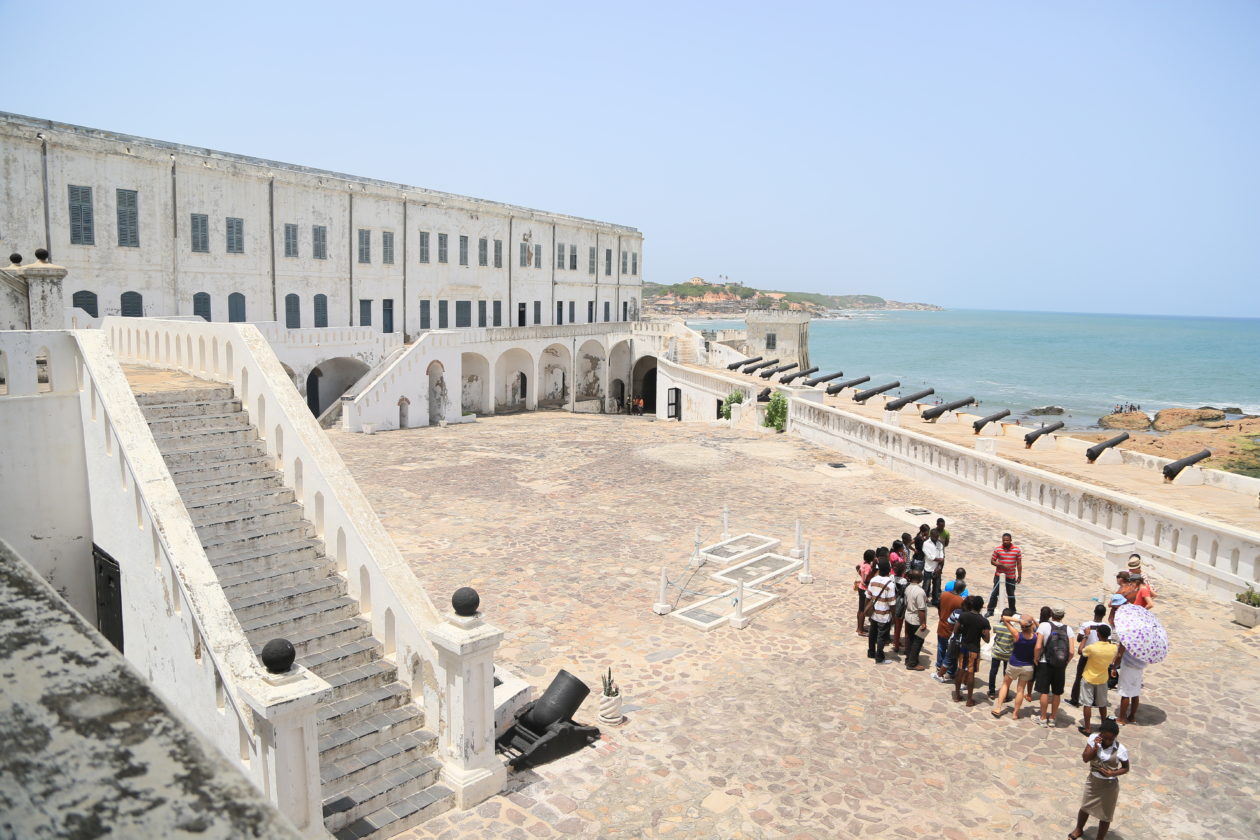 A Long Walk to Freedom – Robben Island
South Africa's history of separation, reconciliation, and forgiveness is a story best told and learned first-hand from South Africans. South Africa's Independence was on the 27th of April 1994 making less than 30 years since the end of the apartheid. There are a few historical locations in Cape Town which will provide an insight into the past of South Africa.
We highly suggest that you plan for time to secure your ticket to Robben Island* – where Nelson Mandela and other Freedom Fighters like Robert Sobukwe were held as prisoners. View the prison cell that once housed Nelson Mandela and have your front row seat to learn the history of the apartheid regime as ex-prisoners guide you throughout the compound. You can easily book a tour to Robben Island online and catch a ferry boat to reach the location from the V&A Waterfront in Green Point.
*Robben Island Museum (RIM) has resumed tours from September 2020. At the moment, they are operating two tours on a weekly basis – Mondays and Saturdays at 11:00am. The use of facemasks is mandatory during the visit. Compulsory COVID-19 screening and testing is conducted at the main entrance of all premises.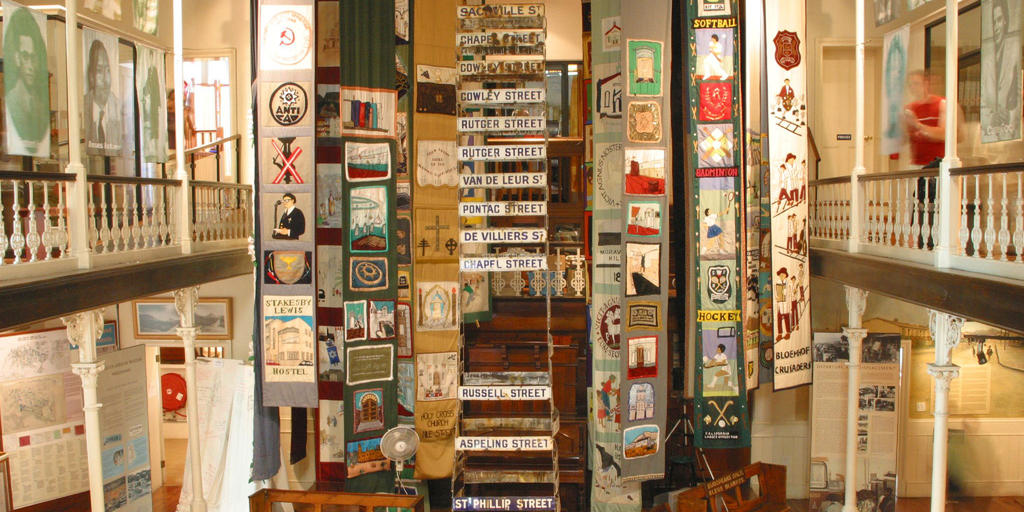 Another important historical spot to visit is the District Six Museum in Buitenkant Street located within Cape Town Central. We recommend a tour though District Six as houses the unforgettable history of the apartheid regime and the life-stories of the people who fought against it. The white supremacist apartheid government destroyed District Six in the 60s with failed plans to rebuild. This memorial museum comprises photographs, maps, personal objects, and other reminders of this old vibrant community. Museum's and site's guided tours are offered by ex-resident storytellers.
The vibrant township of Langa – a family friendly experience!
If you are traveling with children, there are a variety of places offering different types of activities that will satisfy the wishes of any family member.
Langa Township, established in 1919, is one of the oldest townships in Cape Town. The word 'langa' derives from the Xhosa chief, Langalibalele, who fought against the Boer government in the XIX century. You will find several interesting places to visit in Langa like the local Community Center and the Langa Museum. If you are looking for an exciting way to explore this township with your family, consider traveling on a bicycle tour during one of Away to Africa's South Africa tour where we dedicate at least one day per tour towards our outreach program. In Langa Township Away to Africa partnered with Quirky30, an organization offering coding classes to the community youths and adults. Whatever you do, make sure that you do not depart Langa without a fat cake or a taste of the best local food at Mzansi Restaurant.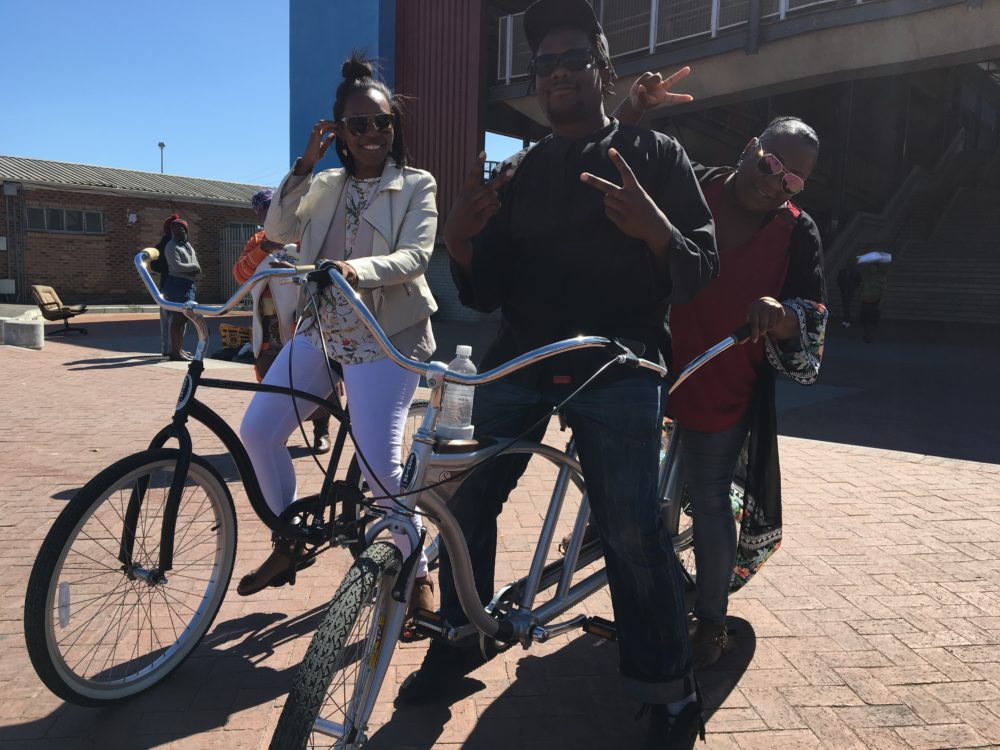 Another great option for a family outing, is the V&A Waterfront where you can walk around, go shopping, grab a quick bite or fine dining and even take a ride on the ferris wheel. A few of our favorite restaurants include Cape Town Fish Market, Seelan Restaurant and Bar and Shimmy Beach (home to Black Coffee's December residency). V&A Waterfront is also a great location for shopping and buying souvenirs for your friends and family. There are countless shops where you can purchase the perfect gift but make sure you stop by Maxhosa Africa. Maxhosa Africa is a South African high fashion design brand founded by Laduma Ngxokolo. Laduma's utilization of vibrant colors is one of many reasons we love his line and storefront at V&A Waterfront.
Solo explorations throughout Cape Town
If you are travelling solo, you can easily rent a car or join a group tour to travel to the Cape Peninsula Natural Park. The breathtaking scenic route along Chapmans Peak Drive will bring you to reach the southernmost point of Africa, Cape Agulhas (although many people will credit the Cape of Good Hope). During the drive across Camps Bay, Hout Bay and Chapmans Peak you may view a few ostriches and baboons running free or crossing your way. On your way back stop at the penguin colony of Boulder Beach or at an oceanside restaurant for Fish & Chips.
Another wonderful yet less popular natural reserve is the one of the West Coast National Park where at a very affordable price you can drive into the park looking for wild animals like antelopes, kudus, and mountain zebras. You can also stop at the beach to admire the otherworldly landscape of the Langebaan Lagoon, which in certain seasons host colonies of flamingos. After a day of driving in the park take a break at the picturesque Geelbek Restaurant inside the Dutch-cape building that is now a national monument, where you can enjoy your meal with a spectacular view of the lagoon and admire the variety of birds who populate the West Coast National Park.

If you prefer to take it easy and relax, we recommend exploring a few beaches throughout Cape Town. There are so many spots to discover and each area is distinguished by a completely different vibe. One of the most beautiful beaches is Cliffton where after a day of chilling under the sun, you change clothes and have an oceanfront dinner. Also consider exploring Llundando and Muizenberg Beach – known for its colorful ocean homes which are perfect for any picture backdrop. Most importantly, people flock to Muizenberg Beach because of its relatively warm water and because it is a mandatory stop for the surf lovers. However, the beach that offers the most breath-taking views without any doubts, Blaauwberg Beachfront. Located just outside the city center, it allows you to admire Cape Town in all its splendor, with the characteristic profile of the Table Mountains framing it all.
Cape Town's culture, art, and music scene
The city of Cape Town itself is simply unique. Each neighborhood unveils a peace of the exceptional history of South Africa. The area of Bo Kapp is one of the most evocative. The colorful district is the heart of the South African Colored culture. Here, you will learn a bit of the story of Bo Kapp and have a taste of their traditional food like the roti and the bobotie.
During your visit to the town center take a moment to shop at Green Market Square. Here you will find lots of handicrafts, paintings, jewels, fabrics, and leathers to never forget your fabulous trip to South Africa. Alternatively, you can join one of the free walking tours starting from Motherland Coffee in St Georges Mall.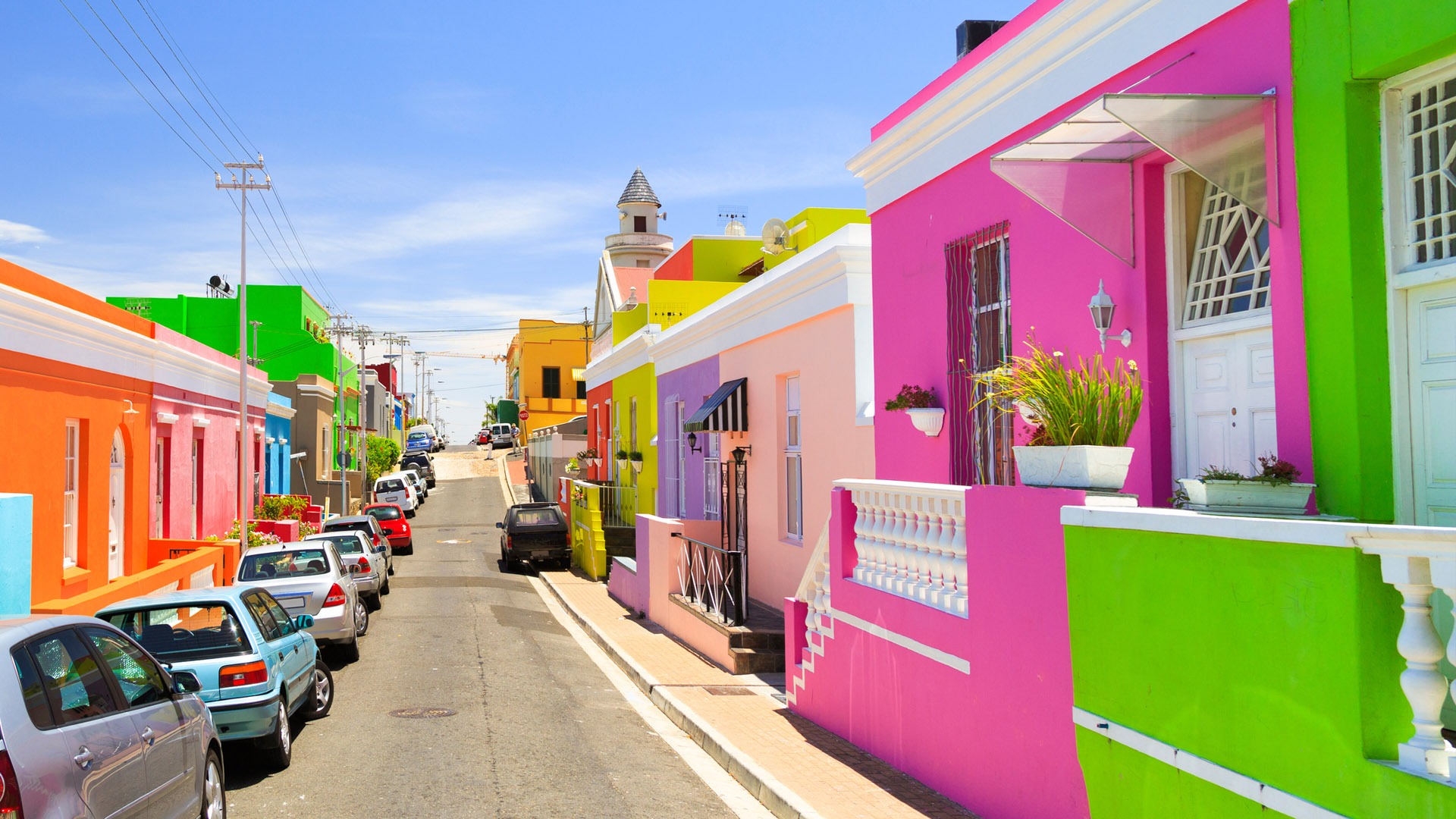 Music is a big part of South African culture and is surely something that will hit you as soon as you land in this amazing country. From the traditional Zulu chants and the mystical Xhosa whistles to the Marabi Jazz of the 30s to 90s Kwaito there is no way you will be able to standstill. Cape Town was also named host city of 2020 International Jazz Day. In recent years this musical scene has grown rapidly gaining international recognition. The hipster-ish neighborhood of Observatory offers some of the best bars and clubs for live music.
At Away to Africa, we love South African music and a great South African party. We currently offer three different tours to discover the magical sounds and vibes of the country. Check out our Zanzibar and South Africa tour that include two days at the AfroPunk Festival, our South Africa and Swaziland tour to the Bushfire Festival, and our South Africa and Jazz Festival tour!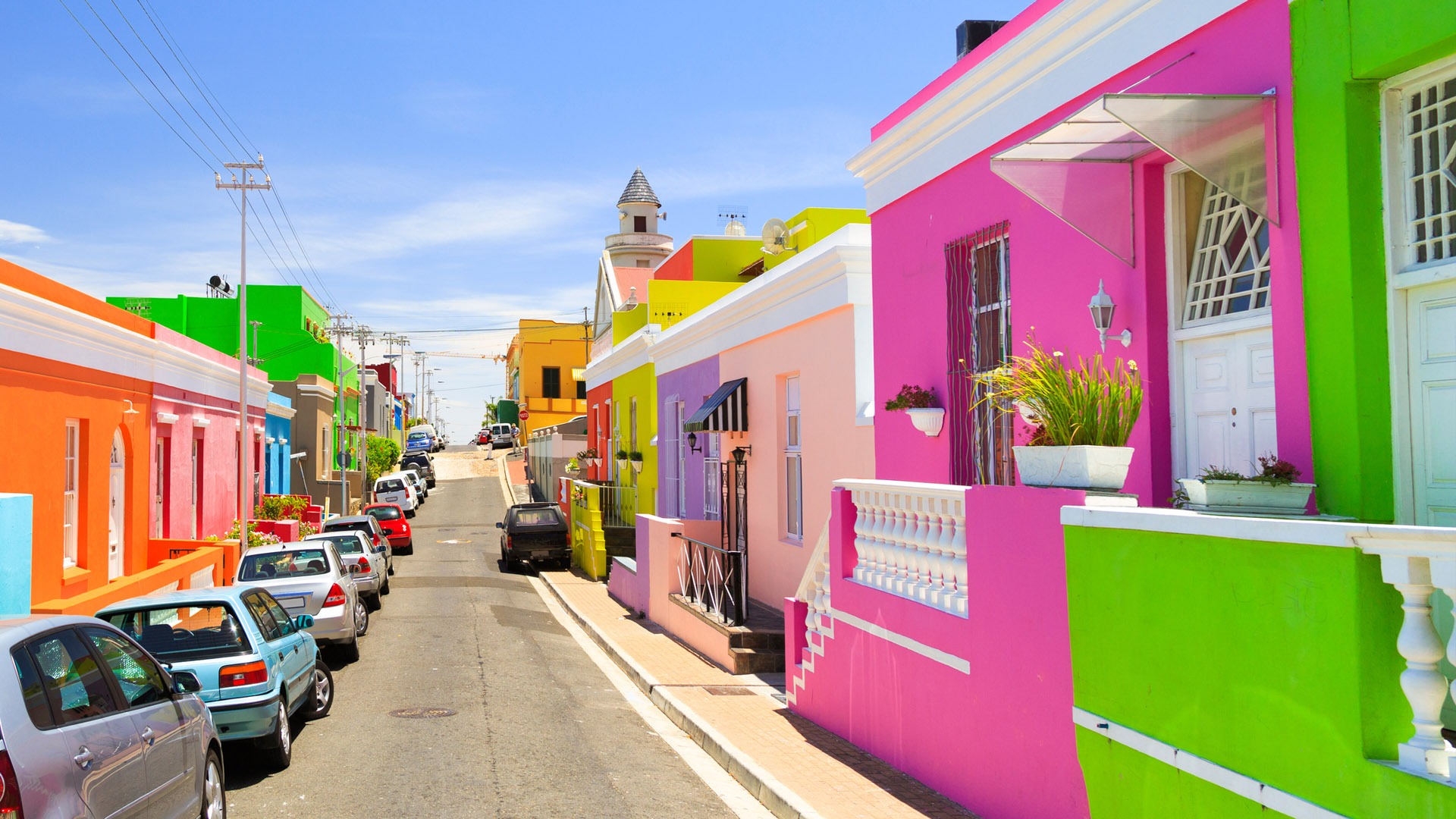 Another important element of South African contemporary culture is Gqom music. Originated in Durban in the early 2010s, this music genre is now taking over the world. The best places to experience this underground urban culture are townships like Langa, Guguletu, and Khayelitsha. Another place to keep in mind when it comes to discovering the local party-life are the Kirstenbosch Gardens, the most beautiful and well-kept botanic garden we ever visited. The coolest thing of all is that during the festive season – Dezemba – the gardens host plenty of shows and outdoor concerts both by local and international artists. The unique vibes of the South African music and the oneiric scenery of these gardens grants a one-of-a-kind experience.
The contemporary art scene in Cape Town is also exceptional. There are plenty of museums where to discover the great artists of Africa or some new emerging ones. The Zeitz – MOCAA is a must-do with its bombastic architecture that deserves a visit itself. You can find many art galleries, artisan coffees, design houses, and coworking spaces along with Albert and Victoria Roads. For street-art, Woodstock is a perfect spot where to admire graffiti and murals of the sort. Another amazing area to discover local arts is Westridge neighborhood, in Mitchells Plain. During the First Thursday of each month all the art galleries of the city stay open till late and offer an array of conferences and vernissages.
*Due to COVID-19 pandemic, public gatherings are temporarily suspended. Make sure to check the current safety measures in place before you visit any venue.
Upcoming Tours to South Africa