Ghana officially coined 2019 as the 'Year of Return' in commemoration of the 400 year anniversary since Africans were taken from African soil and brought against their will to the shores of Virginia.
In memory of what our ancestors endured, Ghanaians throughout the country are collectively welcoming Africans throughout the diaspora to return home. At Away to Africa we're happy to announce that Ghana is activating the first country-wide campaign to welcome back Africans and connect them back to their motherland; which is a central part of our mission. By way of immersive local experiences we encourage long lasting connections with Mama Africa.
The Year of The Return in Ghana
Ghana Tourism alongside stakeholders within the tourism industry created a Year of Return Calendar listing all registered events taking place throughout the year in Ghana. For the first five months of 2019 the Year of the Return activities included the Back2Africa Festival, African Culture and Wellness Festival and even the Heritage Paragliding Festival!
If you are considering traveling to Ghana for the later half of the Year of the Return we'd suggest exploring Ghana this August via Away to Africa's Chale Wote Festival Tour! This year, Away to Africa's Chale Wote Festival will explore Accra, Aburi Mountains, Cape Coast, Hohoe, Akosombo/Volta Region and more! From to be epic and we've built up an experience around the dates to ensure your entire trip to Ghana is cultural, exciting & exploratory including our annual Community Outreach day.
What is the Chale Wote Art Festival?
Chale Wote loosely translates 'Man/or Friend' 'Let's Go' and the Chale Wote Festival is held in one of Accra's oldest towns, Jamestown.
Chale Wote remains a relevant platform over the past 10 years promoting Ghana's arts and culture. Likewise a major promoter of West African creative expression to the world. Fusing Art, Theatre, Music, Food, Games & Social Expression, Chale Wote will stimulates every one of your senses.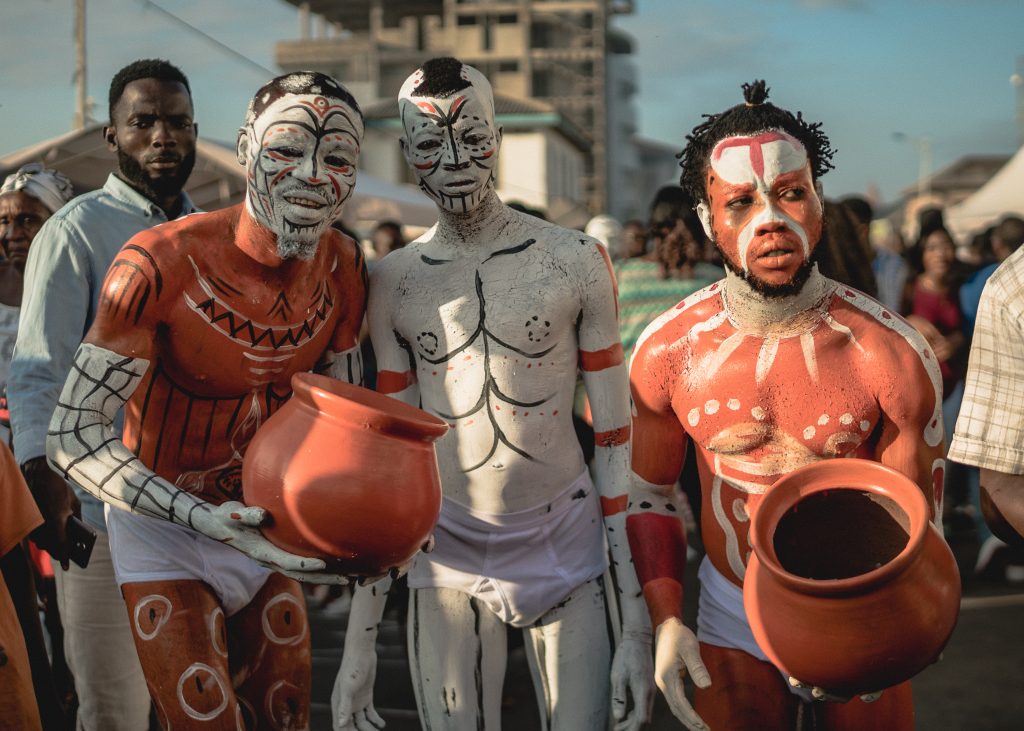 Things To Know Before You Go To Chale Wote….
1. Entry is free for all!
Locals & visitors flood the streets of Jamestown to dance, paint, watch live performances, meet new people, take pictures, laugh, eat local food & more.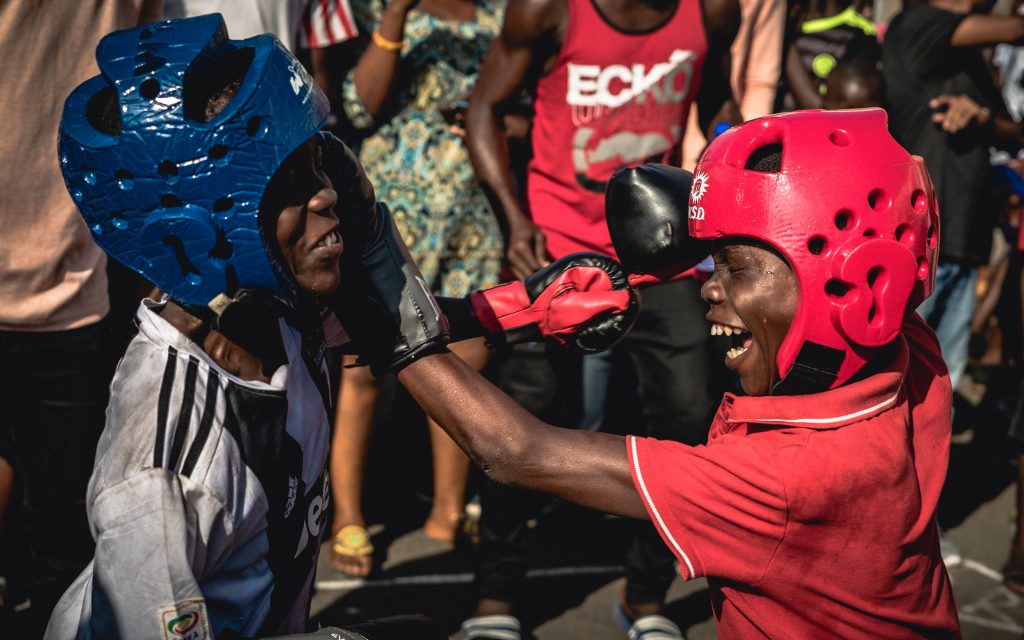 2. Watch out! Random people participate in boxing in the streets.
Try not to act surprised as you walk down Jamestown street and notice two strangers boxing away their trouble. This sport is open to everyone and anyone not afraid to put their money where their mouth is! Challenge your friend or a complete stranger to square off in a street side boxing match…but remember this is all in the name of fun!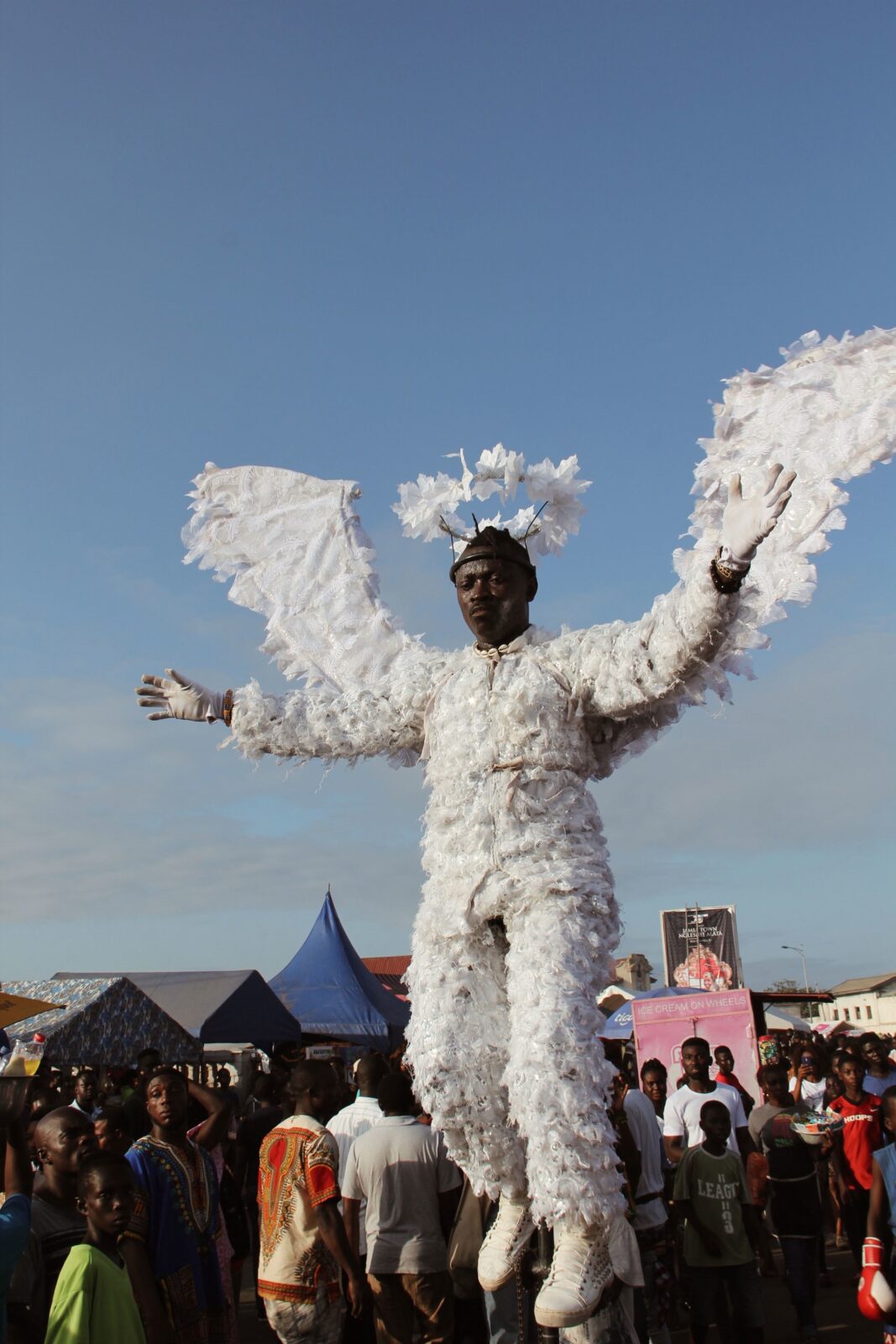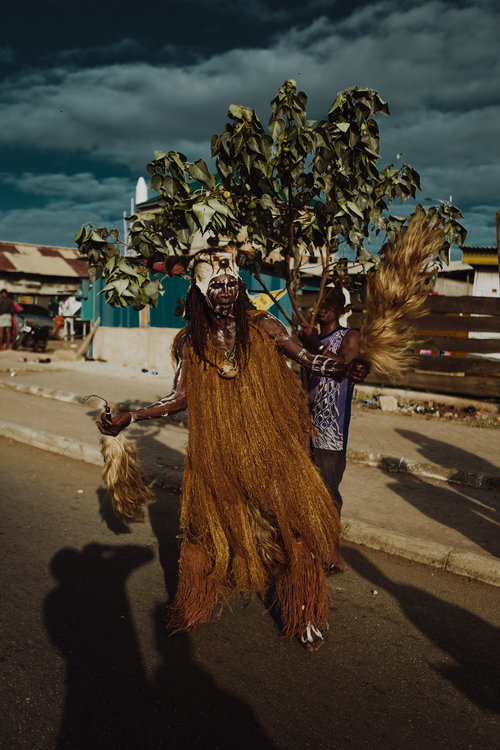 3. Wear whatever you want!
Chale Wote Festival is all about being YOURSELF. One of the best parts of the festival is seeing what people are wearing, as the fashion is one of the many diverse art mediums you will encounter at Chale Wote. The clothing ranges from a mix of traditional wear to futuristic cultural interpretations, political expressions & gender bending attire. Chale Wote screams individuality — without a care in the world of what anyone thinks.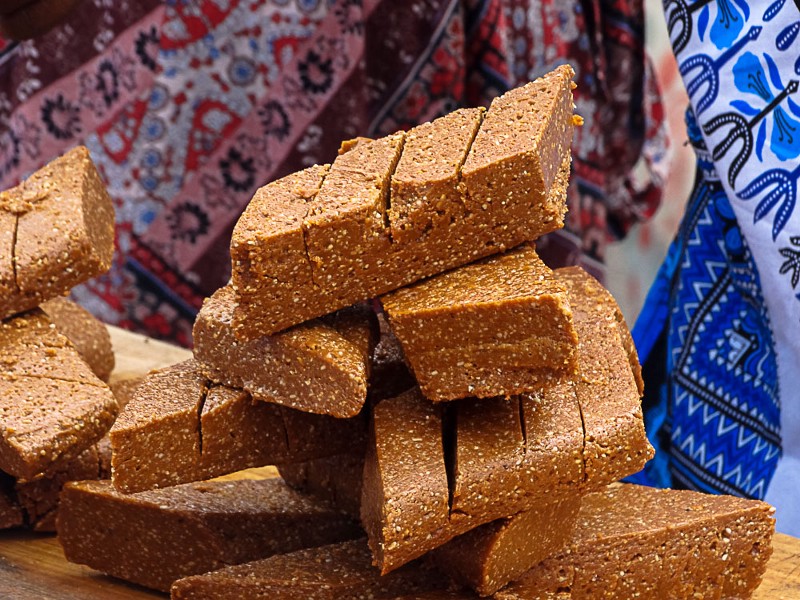 4. Try Nkatie Cake (Ground Nut & Sugar Bars) !
When you need a quick sugar fix make sure you sample the local fare, Nkatie Cakes, Ghananians local take on peanut/groundnut brittle!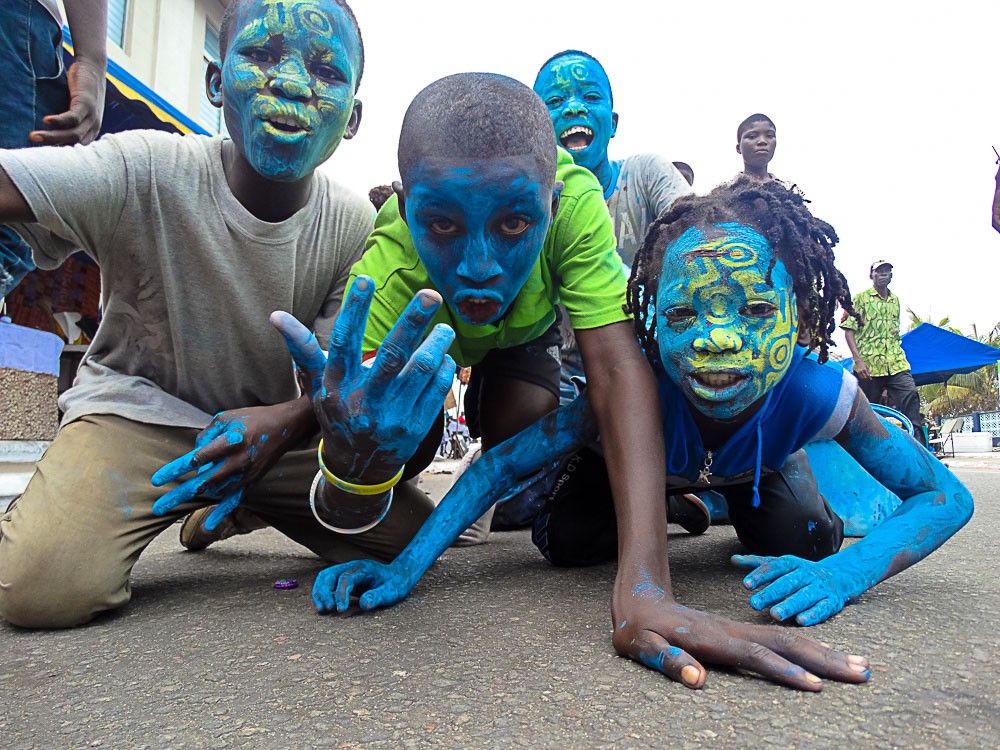 5. Get Your Face Painted
Face painting and body art are really prevalent at Chale Wote Festival. It might be the first time or the only time during the year that Ghanians will have the opportunity to wear untraditional body paintings.
6. Tour Jamestown Lighthouse
As your walking during the festival notice the colonial-era lighthouse that was built in the 1930s looming in the distance. If you intend to catch a great view of the city's busy and compelling fishing harbor, head to the top of the old Lighthouse close to James Fort.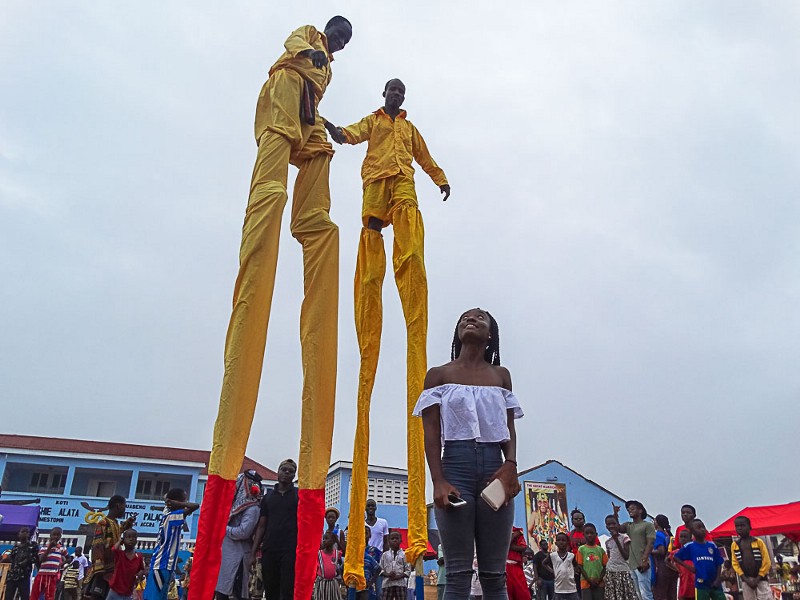 7. Look Up! Why the stilts?
During Chale Wote Festival one fantastical encounter after another comes your way, from fetish priests to a 100-strong galloping cavalry on horseback, from skate boarders to stilt walkers, from tree creatures festooned in leaves to a feathered angel on a unicycle, from children boxing to graffiti artists in full flow on a mural wall. The event is a sensory overload that has become West Africa's most talked about contemporary street arts festival.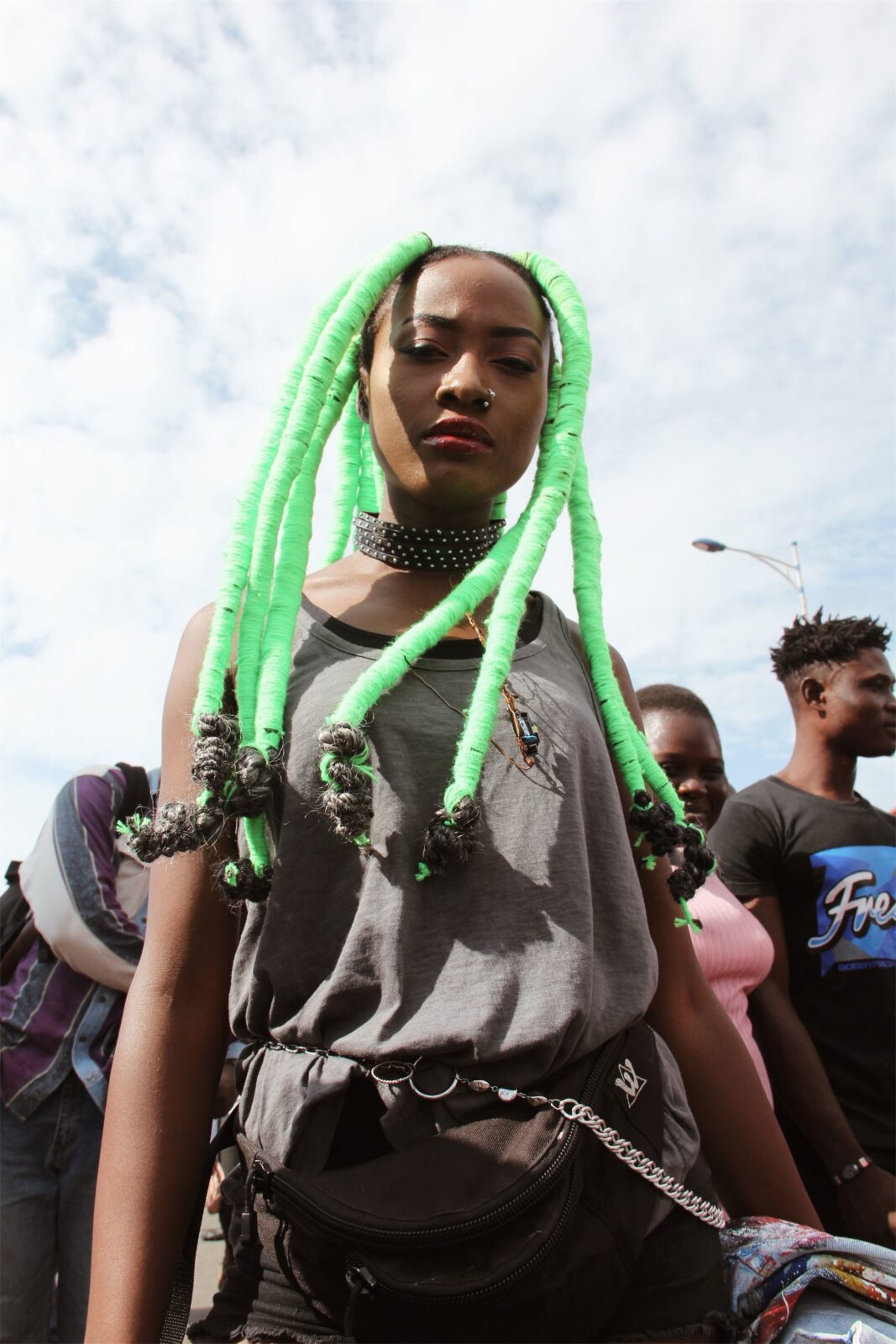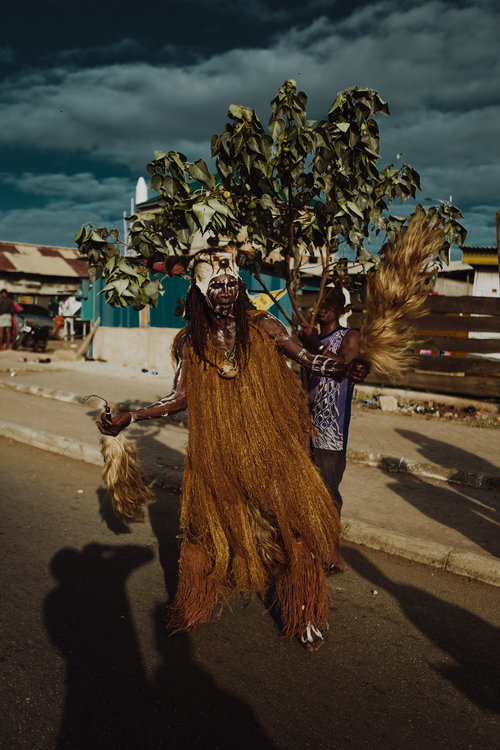 8. Dance to the Beat of Your Own Drum

Walking past any corner, you can catch a glance of not only children but elders dressed in their black and white or red and black attire catching every beat as the palm of the drummers hand beats the drum.(The colors of the traditional Ghanaian garments are typically worn during funerals with red/brown and black worn on the a Saturday, a day of celebrating life and receiving gifts from friends and loved ones in order to take care of the family who lost someone.While black and white are traditionally worn on Sundays when the family attends church).

9. A 10 Day Cultural Itinerary During Chale Wote Festival 2019
Last but not least, we're offering the most unique tour package including Chale Wote Festival as it's going to be extra special this year with Ghana in full swing for the Year of the Return!
Our Away to Africa Chale Wote Tour includes 8 day 9 nights will bring you closer to your roots as you take on your Ghanaian name at the Door of Return and despite where you were born, welcome you home for 'The Year of Return' to Ghana.
When choosing to visit Ghana, Chale Wote is the perfect first time experience one of Ghana's most unique cultural events of the year.